The evolution and adaptation of weeds is mainly due to the selection of resistant biotypes or species tolerant to certain herbicides. These conditions are based on genetic factors, inherent to each species; bioecological factors such as type of reproduction, seed propagation, seed bank longevity and herbicide susceptibility; agronomic factors, which is the management carried out in each crop, which generates the greatest impact on the evolution and adaptation of weeds.

Main herbicide resistant weeds:

• horseweed (Conyza sp.);
• ryegrass (Lolium multiflorum);
• dairy (Euphorbia heterophylla);
• chicken grass (Eleusine indica);
• rice grass (Echinochloa crus-galli);
• bitter grass (Digitaria insularis);
• weevil (Amaranthus sp.).

Main weeds tolerant to herbicides or difficult to control:

• Wormwood (Ambrosia artemisiifolia);
• donkeygrass (Andropogon bicornis);
• button broom (Spermacoce verticillata);
• spiderwort (Commelina sp.);
• Poaia (Richardia brasiliensis);
• viola string (Ipomoea sp.).

Clean sowing

Because of the diversity and large number of species, weed management must be carried out in a continuous and integrated manner, as there are plants that germinate or multiply at different times of the year, causing germinative flow or regrowth throughout of the seasons. The preparation for the entry of the crop in the area is carried out through desiccation, which is extremely important for success in the activity, as sowing in the clean is the most important step for the crop to establish itself in the clean, avoiding weed competition in the initial phase, a critical period for sharp losses in productivity. In the photo below, we exemplify the importance of starting the culture clean: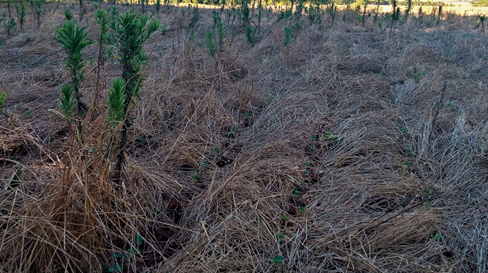 Crops sown with the presence of weeds.
Weeds at an advanced stage that are difficult to control.


Desiccation Strategies

Among the strategies for desiccation, sequential herbicide applications should be used, which consists of the application of systemic herbicides associated or not and, within a few days or weeks, complementing with contact herbicides or more acute action. This strategy helps to adequately control difficult-to-control species and new weed flows that have emerged after the first application. This complementary (sequential) application, as it is carried out close to or at the time of sowing, must use herbicides that do not have phytotoxic activity to the crop.

What are the benefits of using pre-emergent herbicides?

Pre-emergence herbicides are great allies in combating and preventing weed resistance. When using these herbicides, we rotate different mechanisms of action, an essential factor in the management of resistance and have control action right after the germination of weeds. Often times, it is even possible to reduce the number of herbicide applications in post-emergence of crops. Furthermore, there are no or few cases of weed resistance reported to these herbicides.

How to choose the ideal pre-emergence herbicide?

The choice of which pre-emergent herbicide to use must be taken into account the type of soil, the crop to be planted and the planning of the crops that will come in sequence. This avoids phytotoxicity effects, especially in crops that are more susceptible to some molecules, such as sunflower and canola, susceptible to the long residual effect of some ALS-inhibiting herbicides.
We also need to know the weed species that we have in the area, both in terms of botanical classification and the history of resistance to certain herbicides. For pre-emergence herbicides, like many post-emergent herbicides, have greater specificity.

When to apply?

Another important factor, considering that it is a pre-emergent herbicide, is the ideal time to apply it. Many studies have already shown that the effectiveness of these herbicides is directly linked to soil water conditions. As these are molecules that will be absorbed via the soil solution, there is a need for sufficient moisture for the herbicide to be incorporated into the soil, obtaining optimal conditions when there is light rain soon after application. Factors such as green straw at the time of application significantly reduce the action of these herbicides. Other factors, no less important, that must be considered are pH and clay content in the soil.

Conclusion

Weed management does not start with desiccation and does not end in the crop cycle, but lasts throughout the year, entering into crop planning, going beyond the use of herbicides alone. Crop rotation, soil cover in the inter-harvest period of the main crop, soil correction, both physical and chemical, cultural management, weed development stages (ideal to control p